Sideways Initial Necklaces by Broer-Freeman Jewelers
We custom make your initial necklace in 14k rose, white or yellow gold with any number of initials and gold combinations! Prices start at $445.00 for a single letter + $100 for each additional letter.  Chains are a diamond cut style for extra sparkle and 18" in length with options to wear it at 16" and 17". All necklaces are custom made for you (by us!) and take approximately 2-3 weeks to make. Stop in to see the options and what we can do! Perfect for you, the mom in your life, or a special family necklace.  Wear this everyday as your signature piece and layer it with other necklaces for a fashionable look!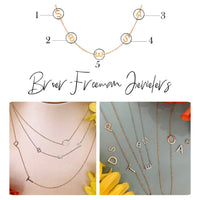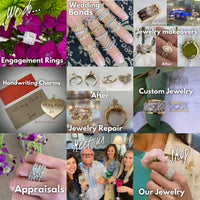 Come See Us!
Monday - Friday: 10:00 AM - 5:30 PM
Saturday: 10:00 AM - 3:00 PM
We are located in the:
Ottawa Hills Shopping Center
4328 West Central Avenue
Toledo, OH 43615
DON'T WORRY! OUR WEBSITE IS ALWAYS OPEN TO SHOP. 🛍️🎁
JEWELRY MAKOVERS!
WE LOVE CUSTOM JEWELRY AND WE ESPECIALLY LOVE RE-PURPOSING WHAT YOU ALREADY OWN!
WHAT DO YOU HAVE IN YOUR JEWELRY BOX THAT YOU WILL NEVER WEAR AGAIN?
See more Makeovers!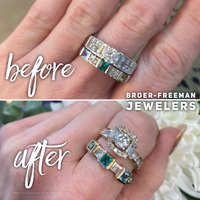 Broer-Freeman Jewelers is ON THE ROCKS!
So excited to announce our very own Broer-Freeman Jewelers "On The Rocks" Collection! The designs focus mainly on three stone designs with unexpected color combinations! Imagine sitting on a beach sipping a cold drink and hearing the ice clinking in the glass. *Look for the hidden ice cubes in the ring design!*
SHOP ON THE ROCKS!